Launch App VastePrik on World Hemophilia Day 2018
17/04/2018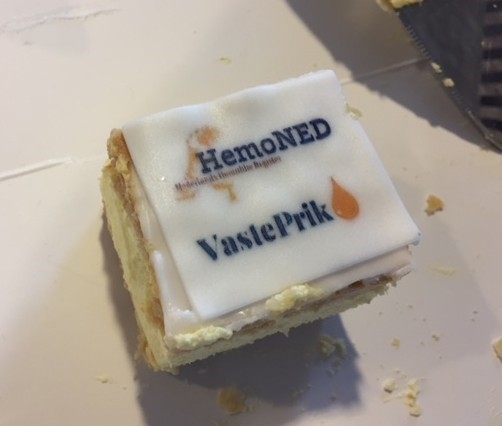 On 17th April, World Hemophilia Day, the HemoNED Foundation has launched its digital infusion log 'VastePrik'; reason to throw a party!
With the VastePrik app hemophilia patients can quickly and easily keep their logbook of medications and bleeds on their smartphone. Both the patient and the doctor view the data via clear tables and graphs on a secure web page. This makes the consultations between them a lot more efficient. The VastePrik app is linked to the Dutch Hemophilia Patient Registry. Patients can register for VastePrik and the Registry through their haemophilia treatment center.
World Hemophilia Day
On April 17 it is World Hemophilia Day. On this day, worldwide attention is created for the rare disease hemophilia and other congenital blood clotting disorders. This year's theme is 'Sharing Knowledge Makes us Stronger'. With the app VastePrik information is being shared more efficiently between the patient and his doctor to improve the treatment. Data from the registry is also shared with the European safety surveillance registration EUHASS and the World Federation of Hemophilia (WFH) for the Report on the Global Annual Survey.